Disclosure: This shop has been compensated by Collective Bias, Inc. and its advertiser. All opinions are mine alone. #AdvilRelief #CollectiveBias
College, although an incredibly fun and life-changing experience, can also be stressful and full of headaches. Demanding classes, not enough sleep, and social demands can leave you tense and tired, which is why it's so important to set aside time and energy for self-care! In this post, I'm sharing my five top ways to avoid those pesky college headaches, and how to stop them in their tracks once they've begun!
Tip #1: Get enough sleep.
I know, I know- getting enough sleep as a student is often easier said than done. I'm guilty of pulling over-nighters and letting myself get sleep-deprived way too often, too. Lack of sleep and irregular sleep patterns can be one of the biggest triggers for headaches (and I've definitely noticed that it contributes to the frequency of my migraines).
It's incredibly, incredibly important to prioritize getting enough sleep. Try getting a sleep mask if your roomie likes to keep the lights on late, find a soothing noise app to listen to, or even set aside ten minutes every night to do some pre-bedtime yoga.
Speaking of yoga…
Tip #2: Set aside time to exercise.
Exercising is often praised as a great stress-reliever, and it's for good reason. When we exercise, our body releases endorphins, which sooth pain and relieve tension. What's more, exercise can help us get better sleep at night! It can tame tension, and can reduce the frequency of more intense headaches, as well.
Now, I'm not saying that it's necessarily feasible for you to work a 1-hour workout into your busy college (and/or work) schedule every single day. Check out your college's rec center and see if they offer any free drop-in classes that fit into your schedule. Get a friend to be your workout buddy, and keep each other accountable for a certain amount of activity each week. Check out online videos – there are tons out there that can be completed in a shorter timeframe! Even if you only have time to go for a short walk or bike ride, getting some fresh air is sure to relieve some stress!
Tip #3: Plan your week in advance.
There are many great resources out there that can help you make sense of your busy schedule. I, for one, prefer an old-fashioned paper planner and copious amounts of sticky notes to help me remember everything on my to-do list. Some of my friends keep everything in their phone calendar and notes, and others have planner apps!
When you plan things out in advance, it can reduce the tension you feel from last-minute anxiety over forgotten homework and nearly-missed club meetings… and less tension leads to less headaches!
It's completely ok if you don't stick to your plan 100%, and I rarely do all of my tasks exactly when I originally planned. However, having a list of what is and is not crucially important to finish makes me a lot more comfortable when I do need to take a break from work for a while. And it's ALWAYS ok to give yourself a break when you really need one!
Tip #4: Identify your headache triggers.
Everyone has headaches from time to time, but if you find that you're experiencing headaches more and more frequently, I highly suggest you start recording them, either on your phone or on paper. If you're away from home and need to go see an unfamiliar doctor for the first time, it can be very useful to have notes to refer to regarding your headaches (or any other health-related issues, in fact). If there is an underlying cause that requires a doctor's attention, this will help you get to the root of the problem more quickly.
Raine In The City Reminder: Remember to stay hydrated to aid in headache relief!
It can also help you notice any patterns in the occurrence of your headaches. For example, you may find that your headaches are most severe after you have an energy drink, or on days when you've been in the computer lab for hours. Maybe it's the smell of formaldehyde from your chem class, or the fluorescent lights in your study hall. Once you figure out the pattern, you can either avoid those triggers (if possible), or have a headache-relief plan ready!
Which leads us to….
Tip # 5: Have a headache-relief plan.
Hover over the image below to start shopping for your headache-relief kit!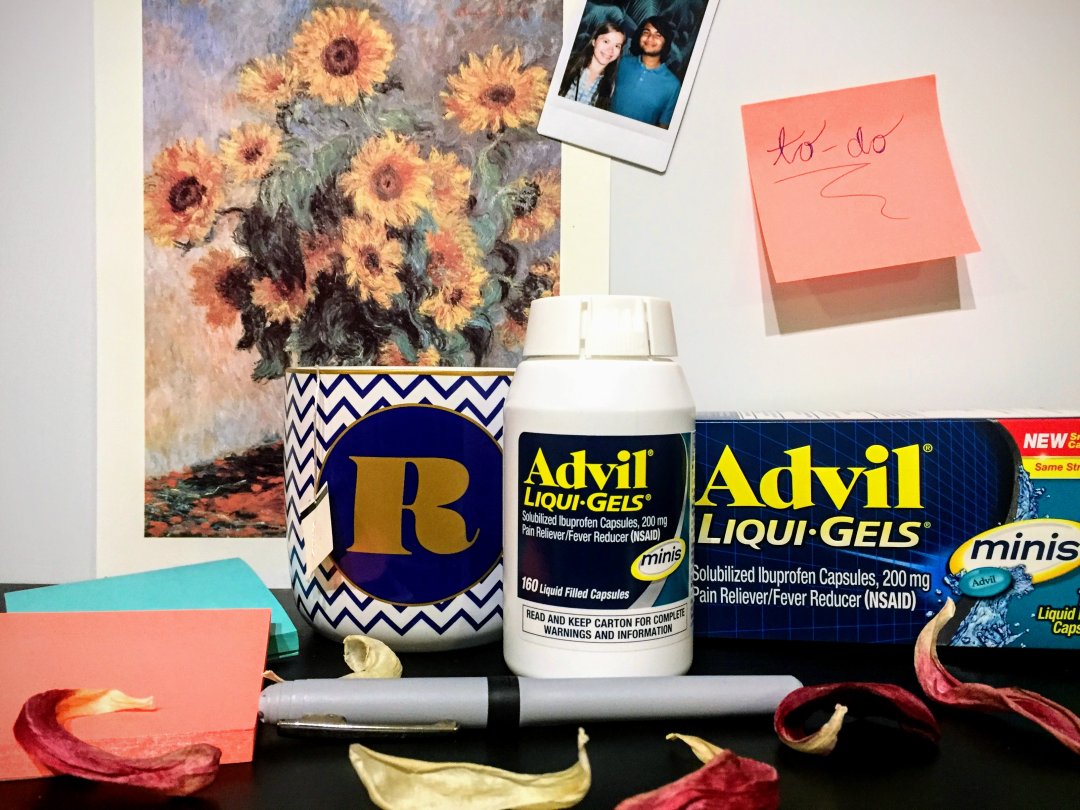 Don't sit around and wait for your headache to become worse! Personally, if I neglect my headaches, they tend to just get stronger and more unpleasant as the day goes on. For years, my headache-relief routine has been to take an Advil®, drink something caffeinated (like a nice cup of chai), and put pressure on the sides of my temples.
Luckily for me, Advil® LIQUI-GELS® are now available in an easier-to-swallow mini size, while still delivering the same pain fighting power as the original size! This makes it much easier to take one on-the-go for fast-acting headache relief (and it's easier to keep a good supply in your purse or backpack).
Partner your Advil® LIQUI-GELS® mini with a soothing cup of tea, a sports drink, or a cold forehead compress, or perhaps spend a few minutes stretching your neck and shoulders to relieve some tension.
As a matter of fact, I just stocked up on my favorite pumpkin-spice tea and Advil® LIQUI-GELS® minis at Target this past weekend to help me get through the rest of my crazy fall semester! You can find Advil in the "General Pain Relief" aisle of Target's Pharmacy section.

Check out this product at Target.com as well!
What gives you the most headache relief? Let me know in the comments!
xoxo,
Raine
Use as directed

©2017 Pfizer Inc.

LIQUI-GELS

®

is a trademark or registered trademark of Catalent Pharma Solutions.